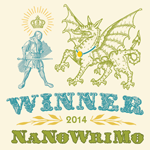 Another November has come and gone! This time around, I was able to prepare a few ideas for the month and spent the first several days testing them out. Shortly into writing, I knew my Underground Railroad Alternate History (think Civil War and Rip Van Winkle retelling…kinda) would be the best bet. On the 28th of this month, I reached 50k and celebrated another NaNo win!
I learned several lessons throughout this experience I thought they might be helpful to share:
Don't Force It. Even if you have a goal of writing 1k, 3k or 5k a day, if the words don't come out easily and writing feels like a chore then stop when you need to. In my experience, forced words usually get deleted later, so only write what feels right.
Embrace Change. I went into NaNo expecting and wanting to write one story. While I had the idea of the novel I eventually wrote, it wasn't the one I expected to finish. By shifting goals, I was much happier throughout the month. The same went for changes in my plot or concept. Just let the words happen.
Use Support. One of the biggest benefits of the writing community is the helpful support. When I got writer's block, or felt drained or needed a boost, having a support group kept me on track.
Try Not to Edit. I much prefer editing, so drafting is tough for me to do without wanting to make changes as I go. The tactic that I find works best is swearing off editing until the draft is done. Write down all the edit ideas you want, but don't do them until the end.
Take Breaks. Everyone gets burnt out and drained up when writing. Factor in jobs, friends, family and all the other craziness of life and it can be exhausting. When you aren't feeling charged to write or excited, do what you can and take a break. Watch a movie, read a book– anything that clears your head.
Most Importantly: Just Write. It might be an overwhelming goal to write a novel in thirty days, but at the end of the month, even if you didn't "win" you still got words down. That's what counts.
If you have any lessons or tips you've learned from your NaNo experience, feel free to leave a comment