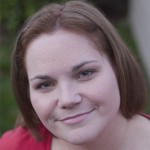 First of all, Clare is an amazing person. She has been super supportive of my writing journey ever since we connected months ago on twitter. And I am happy to return the favor by hosting her blog tour here! On today's docket is a review (sans spoilers)!
The comfortable sensation of being drawn into a brand new world starts within the first few pages of Trinity. Instead of feeling confused (as some fantasy stories induce), this compelling adventure gives the reader a sense of understanding right out of the gate. Even though I have not grown up in a tower, or in the Wolf clan, I could appreciate their opinions, emotions and lifestyles just as the story began to rise.
Trinity's three main characters, Skaric, Nidan and Kiana are dynamic, relatable and above all else, enjoyable people to follow. The challenges they face might be great, but watching them evolve from their humble beginnings to multidimensional characters by the end is an achievement few stories accomplish with such grace. These characters shape the problem at hand and the environment around them. A story so focused on character is refreshing in the current market of plot-driven adventures.
The world-building and stunning settings place you right in the thick of battle, in the busy cities and in the vacant woods Clare so elegantly describes. Her writing is laced with imagery that brings the world to life. And the surrounding danger was palpable! My heart race spiked more than once with concern for the character's well being. Let's just say things don't always turn out as you expect!
Moreover, the Wolf clan plays a formidable foe for Trinity's heroes, especially in the power-hungry, self-centered Berend who mercilessly hunts the trio to exact his revenge. The vile, relentless types with motive are the scariest of all and Berend fits the bill. I'd hate to be sleeping in the woods knowing someone was hunting me. To learn how Kiana, Nidan and Skaric manage in their adventure to restore balance, you'll just have to read the book for yourself x)
I had the wonderful privilege to read Clare's YA Fantasy novel Trinity and encourage each and everyone of you to as well! The following is a short snippet from her novel: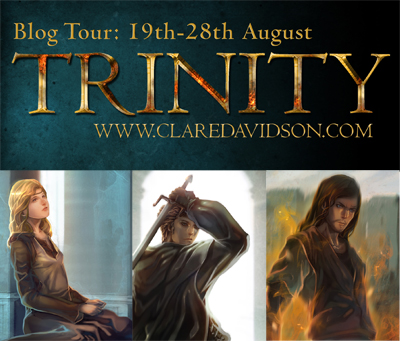 With the shock of the fight over, Nidan felt his wounds stinging again. Quickly, he glanced over his injuries as well as he could. His shirt was tattered, mostly slashes on his arms and left shoulder, though he had also been cut across his right hand side. None of the wounds looked dangerously deep, and the black fabric Nidan wore hid the blood stains.
Kiana shook herself from his grasp and turned round to look down at the rider. Nidan followed her gaze. Another Wolf. Not their saviour. Just another Wolf. The mage had succeeded in dragging himself from beneath the dead horse and was beginning to stand. His face was stoically blank even though his shirt was blood-soaked. Nidan quickly took in the Wolf's injuries: the mage had attempted to bandage a side wound; he held his left hand awkwardly with the fingers curled like claws; there were dark bruises around his neck and he wasn't placing any weight on his left leg as he stood. He was a mess.
Nidan stepped forward and readied his sword.
Kiana grabbed hold of his arm. "He helped us!"
Nidan narrowed his eyes; he didn't care.
"He could have helped them kill us," Kiana said. "But he didn't. Maybe he doesn't want us… me… dead at all. You can't kill him in cold blood!"
Yes, I can. Nidan tried to pull away from her, but Kiana clung on with surprising strength. The muscles in Nidan's cheeks flexed, but he made no further attempt to circumvent her.
"I never said I didn't want to kill you," the Wolf said.
Kiana's eyes were wide as she turned round. "But you helped us… because we saved you…"
The Wolf had limped round the horse and was now standing, staring at them both with cold blue eyes. Nidan couldn't read his expression at all.
The Wolf laughed briefly, the sound full of bitterness. "No. For that I should kill you." The Wolf raised his left hand ever so slightly, his fingertips twitching as he tried to uncrumple his hand.
Nidan wasn't going to give him a chance. He rushed at the Wolf.
Kiana grabbed at his shirt but he was too fast for her. "Nidan, don't!"
Nidan seized the Wolf by the neck of his shirt, holding him so their noses were almost touching. "I bet I can kill you before you can work your cursed magic." He stared up at the Wolf, looking him in the eyes.
"If I was going to use magic against you, I would have already."
Annoyingly, the Wolf had a point.
Nidan clenched his teeth. "I should kill you."
"No!" Kiana pushed Nidan away and stepped between them. "Hasn't there been enough killing?"
"There will never be enough killing for the Wolves. It's all they live for. To kill those who worship Miale and Pios. To kill you."
Trinity is available to buy from:
Paperback:
eBook:
Amazon ~ Amazon UK ~ Smashwords ~ Sony ~ iTunes ~ Barnes and Noble
Clare Davidson is a character driven fantasy writer, teacher and mother, from the UK. Clare was born in Northampton and lived in Malaysia for four and a half years as a child, before returning to the UK to settle in Leeds with her family. Whilst attending Lancaster University, Clare met her future husband and never left. They now share their lives with their young daughter and a cranky grey cat, called Ash. Clare juggles family life with writing, teaching and a variety of fibre craft hobbies.