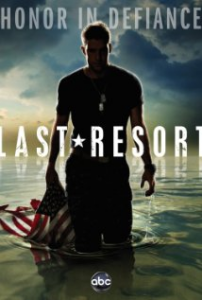 When I first saw the preview for Last Resort, I have to admit I thought it looked incredibly cheesy. But I tuned in any way to see for myself how it unfolded. And after the first twenty minutes of pilot episode, I stood up at the commercial and said, "That's how you start a TV show!" It employed what I have come to dub as "The LOST Method": Quickly getting you attached to every character for one reason or another and then throwing in several events that make you say "What the hell is going on?"
That's not where the LOST similarities end either, but I'll leave those up to you to discover. Like hidden Eastern Eggs. More so than LOST obviously, it has a crime drama feel, with little incidents playing host to each episode while the overarching theme still gets hit home. The Colorado crew is in a perplexing situation given that their own country tried to sink them and now they have to remain holed up on an Island, hoping they can get to the bottom of what happened.
The Captain, the XO and the Lieutenant are the focal characters and the diversity of their personalities is what really makes the story interesting. Captain is headstrong and gusty, XO is kind and sympathetic while the Lieutenant Is feisty with something to prove. They make for an entertaining ensemble at the center of this catastrophe.
If anything, Last Resort is a fresh take on the old war story, putting this submarine crew in a position no other American Military service member ever has been and that's the ultimate draw. Something familiar but unexpected. And the plot's complexity and non-linear delivery also create a dynamic that keeps the audience guessing. There are so many villainous characters, it's hard to know who is the true enemy of these sailors. Is it one of their own? A military man in DC? Their own wives? Who knows!
It can be difficult at times to tell the sailors apart since they're always in uniform, but more or less, the cast is a well put together group that each brings something new to the table. Even the islanders they run into have a part to play in this debacle. Although the twists are somewhat predictable, they're not entirely executed in a bad way. The constant reminder of their predicament often leads to a heart-racing situation that isn't always as it seems.
I'd say because of the intricate story and lingering questions, Last Resort is a keeper. It's got a great story to tell and surely a long while to do it. A-