For today's post, I thought I'd put together a small collection of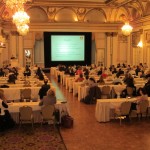 writing conferences. The season of writers gathering together is about to begin! Can't you feel the fluttering stomachs and hear the clicking of keys? The scratching noise of pens on paper echoes in the air, mixing and tangling with the spoken word. Ah, what a wonderful time of year!
These congregations take place across the country and the world, so anyone and everyone can get to a local event. If you are still on the fence about attending, let me tell you from firsthand experience, a conference can work wonders on your confidence and help you grow your understanding of the industry and introduce you to a menagerie of other writers.  It is one-hundred percent worth the investment of money and time. Check out the following list and find which is best for you:
The San Francisco Writer's Conference February 14-17th
The Chicago Writer's Conference Dates TBD
The Midwest Writer's Workshop Dates TBD
The Writer's Digest Conference April 5-7
The Scbwi Conferences Summer in LA, Winter in NY, International in Bologna
The Dallas – Fort Worth Writer's Conference May 4-5
The Pacific Northwest Writer's Conference July 25-28th
Have you been to a writing conference? Which one was it? How was your experience?
Do you have any conferences to add? Let me know!