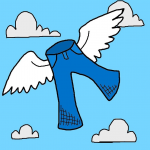 Every writer has a different way of going about producing their stories, but generally speaking we fall into two camps. You're either someone who plans the story ahead of time, with outlines, brainstorming and perhaps a scene or two already written; or you fly by the seat of your pants and jump into the writing without second guessing your inspiration. Both have their pitfalls but both methods are also effective in getting your novel written. I've compiled some pros and cons of both:
Planning Pros:
Can help identify the progress of the story ahead of time
Helps avoid continuity errors in plot and character development
Provides an outline to follow when writing
Planning Cons:
Limits the writer to a predetermined plan
Can cause creativity problems
May stall the writer from actually putting pen to paper
Pantsing Pros:
Allows the writer to harness their muse and act on instinct
Offers the freedom of inspiration and change
Isn't bound by rules
Pantsing Cons:
Can easily divert the story into confusing territory
May lack flow and continuity in plot and characters
Inspiration can end abruptly
Personally, I plan the story out, but when I get ready to write, I don't often review my outline. During the writing process, I let inspiration take me away and allow ideas flow as they will instead of restricting myself to the pre-planned outline. However, if I get stuck or confused, I can easily refer to my original plan. It's a tactic I call, planning pantser.
Which way do you write? What have been the pros and cons you've experience using your method?