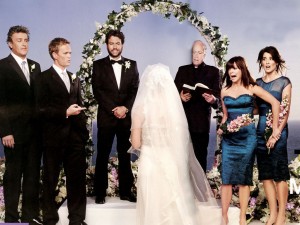 I noticed I haven't written a blog about television lately. Honestly, there hasn't been a show that I've jumped into (and that's made it) long enough to write a review about. But, I am still watching my regularly scheduled programs with a curious thought nagging at me. Why do they (mostly) all suck now? Each of my shows started with such promise and they are without a doubt devolving into a shadow of their former glory. I can't help but wonder why. And I think I've sorted it out for each of them:
Potential Spoilers Ahead!
How I Met Your Mother- The planning, foreshadowing and non-linear narrative made this show incredibly interesting. But at this point, HIMYM is suffering from running too long. A season or two ago, they set it up for the perfect ending. Everyone happy, Ted about to find the Mother, but then it got renewed. And renewed again. Now the writers are just coming up with silly, out of character material just to reach the finish line.
Glee- Showing the true plight of high school with edgier material helpfully padded by musical numbers and great solos brought me into this show. But the drama has become increasingly melodramatic, essentially turning Glee into an hour long PSA. Furthermore, by focusing so heavily on the old characters, they have made it difficult to attach to the new cast.
Revolution- Ok, this show had no glory to start in my opinion, just a clever concept. Regardless, it has moved the plot so quickly and suffered from excessive holes in the narrative that I struggle to maintain my belief in the world they've built. Moreover, after spending the whole first half of the season searching for Danny, they up and kill him? Pointless.
Once Upon a Time- The classic story retellings in this modern fairytale made Once an amazingly different kind of paranormal show in the thick of bland programming. Instead of calmly proceeding with the story and letting characters unfold, they jumped the shark and now they're floundering around with what to do next.
A lot of these shows are challenged by poor planning and characterization. I find that these are common issues that plague a lot of stories and likely other television shows beyond the ones I mentioned. How are your favorite shows faring?