Lately I've been thinking about what really makes a plot complex and interesting as opposed to generic and boring. I wondered if it were something you could actually uncover. Something you could put your finger on. When I brainstormed more, I thought it was the concept alone that gauges the uniqueness of a story.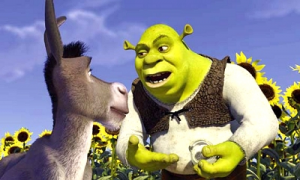 Then I realized that the concept is made up of layers. Remember how Shrek is made up of layers? So are stories! Layers that can be broken into categories and those are what really give the novel depth. Thinking of the story in terms of onion layers helped me plot and write things I found to be special. And when I applied the same idea to published works, TV or movie plots, I was pleased to feel that I had found a useful recipe for success. Now I'm sharing it with you!
Start with Setting: Where your story takes place in the world or in time is the first layer to your story that can set it apart from other ideas. The more specific the setting, the better—so instead of America as the setting, your story could take place in the dense, moist forests of the pacific northwest.
Build with Conflict: Adding several conflicts to your plot produces another layer of complexity. If there's no conflict, there's no story. By using both internal and external conflicts, you ensure that the characters and the world around them change over time. Furthermore, conflicts help heighten the stakes.
Finish with Twists: Good stories have fun settings and conflicts, but the best ones have a twist. Something unique that really set it apart. And not Scooby Doo type twists, I mean well thought out misdirection. Sure, this could be a twist in the plot itself, but a spin on characters or motifs tend to be more interesting.
When reworking a current plot, or planning a new one, I've found this layering concept to be very helpful. I hope that when you get back to planning or writing that this helps you construct your idea to its fullest potential. Happy writing!