If you're like me and many other writers, sometimes you lose your way. Whatever the reason might be– inspiration feels like it's missing or maybe anxiety has become overwhelming– we all have gaps in our process. The important thing isn't that the blank space has occurred or how long it's been, those are merely distractions to keep you down. What you need to focus on is how to get back into the groove.
That's about as far I got into this post before realizing I don't really know how to do that. I wish I could say here are some exact steps, but that's unfortunately not how this works. Honestly, when you feel stuck, it's the worst feeling for us creative types. Our muse stops talking to us and the shimmer of life fades. Sometimes inspiration returns easily, sometimes it takes a while. Right now is one of those longer moments for a lot of us, I think. And you know what? That's okay!
Right now we're waiting for something to tell us it's time. And that eternal sign doesn't seem to be showing itself so…here's you're sign. It's time. Writing every day is great but don't feel like you're a failure if you can't make that happen now, or even if that doesn't happen when everything is looking up. You write when you can. That's what matters. Little by little you get back to what feels right.
In these challenging times, ignore the doubt flooding your thoughts and try to open your notebook, or document, or scrivener, and write a few words. Don't force it to get a scene out or a chapter, maybe just brainstorm and start there. Maybe write about your character's likes and dislikes rather than story content. Jump-start your creative process in whatever way works for you.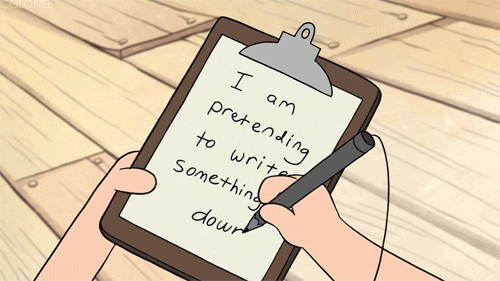 Most importantly though, whatever you do, please don't give up. In these bouts of doubt or insecurity or plain old blahs, remember that your voice is needed in the pantheon of stories. Finding your way back to wording is vital not only to your well-being but the success of our entire community. Believe me, you matter and your story matters and we need you! It's time to write again.
Even if it takes weeks or months to return to your regularly scheduled creative path, it's crucial that you do. Know that you're not alone. We all face this struggle at some point, in some cases, a few times over, so know you've got friends going through this same thing. Especially now. Together we'll get through this 🙂