Today I have the pleasure of sharing a great writer's guest post on dramatic structure. We agreed to swap posts and you can read mine on the creative process here. Tiana Bodine was kind enough to share her wonderful thoughts on story structure and I hope you find it as insightful as I did: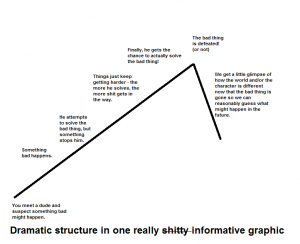 One of the basic rules of story structure is this:  Every story has a beginning, a middle, and an end.  That part's obvious, right?  Unfortunately, novel-writing is fraught with peril, and it's easy to run into stumbling blocks at each of these junctures.  Worse, the solution to overcoming those stumbling blocks differs depending on what part of the book you're in.  As an editor/beta-reader, I run into a lot of the same problems in people's work.  And as a writer, I run into a few of these same problems.  All of this has led me to putting a lot of thought into them, which I shall now impart to you as lustrous pearls of wisdom.
Beginnings
The purpose of a beginning is to orient your readers in the world of your book, introduce your character and get the party started with the plot.  In general, writers have a problem with starting a book either too early or too late:  Either they begin with tons of backstory and explaining, or they start right in the middle of an action sequence filled with people we haven't met yet.  Either one will grind your story to a halt before it even gets going.
You want the beginning of your story to create a feeling of anticipation.  You have to introduce a character and some tension — giving the reader the feeling of, "oooh…something is about to happen."  That tension, the desire to see what's about to happen, is what compels the reader to turn the page.
Middles
For most writers, the middle is the hardest part.  How many of us have a dozen or more word files with the first few pages of a story that never went anywhere?  It can't just be me, right?
The middle is where the meat of the story takes place.  The beginning sets up the characters and the conflict, and the end brings the resolution to that conflict, but the middle is where the character has to deal with that conflict.  So why do we get caught up there?
Well, in part because as people, we don't actually like conflict.  In real life, most of us are pretty eager to avoid conflict altogether.  So when we create conflict on the page, our initial impulse is to resolve that problem right away.  We don't want our heroes to suffer.  But that impulse is the exact opposite of what we should be doing if we plan to create interesting and engaging fiction.
See, we might hate conflict in real life.  We might have to cause conflict for the characters we create.  But we love reading about conflict.  Seeing other people suffer — really, deeply struggle — and ultimately overcome their problems is pretty much the whole reason we like fiction in the first place.  When people (even make-believe people) overcome their obstacles, we feel like we could do that too.
So the trick to writing a compelling middle is to get the character in trouble…then make that trouble worse and worse, to the point where it seems almost completely insurmountable.  Every time you're tempted to make things easy, make them harder instead.  And if you do solve a character's problem, give him an even harder one to deal with.
One other thing about middles: Although there should be a lot of challenges along the way, there should be one single huge challenge that undercuts the entire story.  The book isn't finished until that single challenge is finished.  Ideally, every challenge leading up to that final showdown will be a little more difficult.
So, for example, you're writing a revenge story about a character who's trying to find and track down the person responsible for her parents' murder.  That's the big challenge.  Small challenges along the way could include identifying the killer, finding where he lives, fighting off his henchmen and grappling with whether the revenge is even worthwhile anymore.
Ends
Ending a story can be a challenge.  Oftentimes, stories wind themselves along precarious paths, and you can get lost in them.  Sometimes stories draw on too long — characters solve problems, find more problems, solve them, find more, ad nauseum.  Other times, the stories get cut short — characters face problems, solve them too quickly, and the story ends prematurely.  Or, even if the story ends at the right point, the ending itself can fall flat.
The purpose of an ending is to resolve the conflict.  To borrow our earliest example, the ending of the book happens when the main character kills the murderer.  Or when she decides that killing the murderer won't actually make her happy, so she doesn't do it.  Or the murderer kills her instead, because you're writing a post-modern tragedy and fuck convention.  Whatever, I won't judge.
Anyway, if you've done your middle correctly, the final challenge of your book should be pretty cataclysmically difficult for your main character.  It should look completely impossible.  And then, like a wave cresting over the horizon, that tension should break and it does become possible.  (Or, you know, not, because you're writing a post-modern tragedy.  Really, I'm not judging).
That tension-breaking moment is called the climax, and you can take that as dirty as you want to.
Good news for people angsting over endings: Once you get over the climax, the actual ending of the book doesn't matter as much as you think it does.  That part, the denoument, actually tends to suck in most books.  So if  your last sentence or last line is crap, you're in good company.
(Author Note: I was going to write a conclusion paragraph, but I realized it would be a lot funnier if I left it exactly like it is right now.  Then I thought I should tell you that in case you didn't get it.  Now I'm explaining the joke and it's not as funny.  Sorry about that.)
If you haven't read my twin post over on Tiana's blog, now's your chance! Click here to find out about the process of discovery between story ideas.